Top ranked Energy Providers in Dallas
Find Cheap Electric Rates in Dallas
Dallas is part of the Texas' deregulated energy market, which means that residential and commercial energy users in Dallas are allowed to choose from a large number of energy providers. buy.energy has partnered with some of the state's best energy providers, including APG&E, Pulse Power, V247, Gexa, Frontier, Summer, Spark, New Power Texas, Pronto, and Chariot Energy. Through these partner providers, we are able to offer significant savings to our customers. You can browse the available rates, pick the best plan for your needs, and sign up in just minutes. It's never been easier to save money.
With the extreme heat of the Texas summers and the recent, unprecedented winter storm, it is more important than ever to make sure you have an energy plan in place. If you are out of contract and subject to the fluctuations of market rates, you could end up with a monthly electric bill for thousands of dollars.
Even without the unpredictable weather, reports show that residential electricity use is on the rise as more and more people are working from home. Now is the perfect time to make sure you aren't paying more than necessary on your energy bills.
Would you like to see what rates are available in Dallas? Enter your zip code now, and start shopping for the best savings.
Signing up is easy. You can do it in minutes. Plus, there are no complicated forms, no extra fees, and no technicians need to come to your house to make any changes.
There are dozens of energy providers that service Dallas residents. Fortunately, there's no need to call around to each one to find what rates they will offer you. Even if you're shopping online from the comfort of your own home, many of these providers' websites are complicated and lack the information you're looking for. buy.energy gives you everything you need in one place. Don't spend extra time trying to track down information from dozens of websites.
Dallas electricity rates
As of August 2020, the average price for residential electricity in Texas was 11.74 cents per kilowatt hour (¢/kWh). At buy.energy, you can find several fixed-rate plans as low as 6.7 ¢/kWh. We will help you sort through the options to find an electric rate that works for your home or business. Setup is easy – most homes don't even need a visit from a technician.
Electric rates in Texas change throughout the year depending on the season, demand, and other factors. The U.S. Energy Information Administration (EIA) tracks these changes on a monthly basis, shown in the chart below. The EIA's most recent data is available through August 2020 and lists the average retail rate for electricity in Texas as 11.74 cents per kilowatt hour (¢/kWh).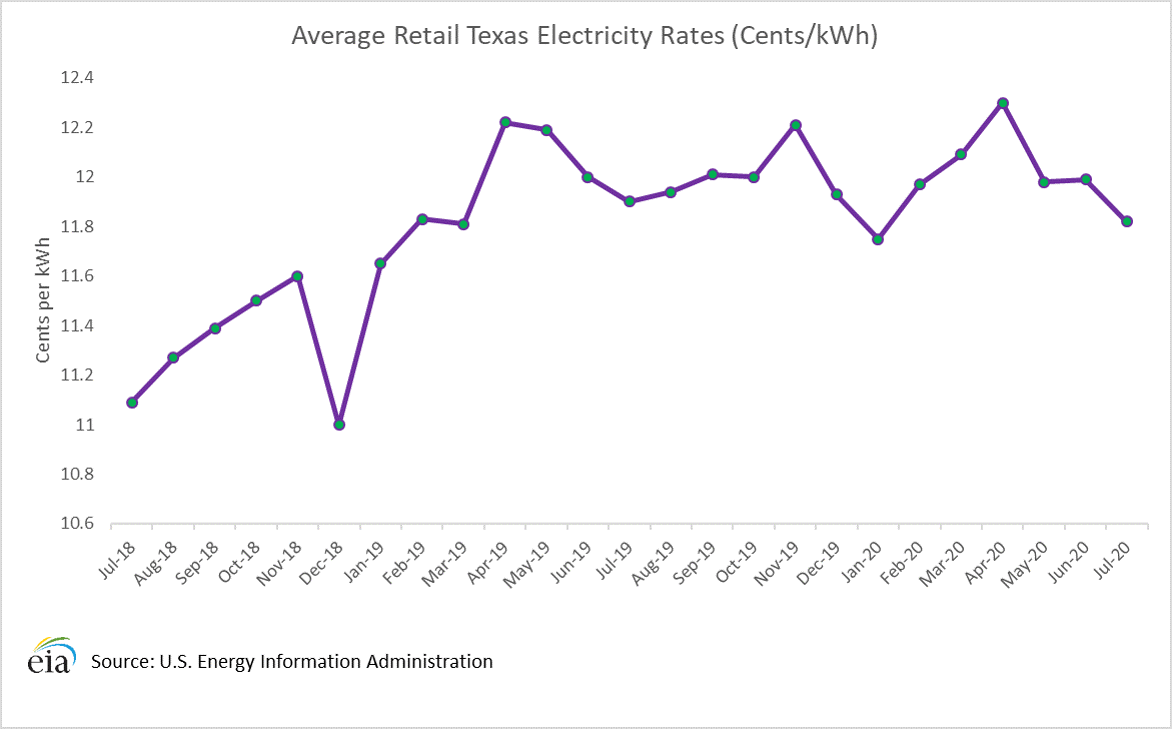 Price competition brought about by deregulation means wholesale electricity rates can vary, and any increases in those costs find their way into the retail rates that you pay.
What's an electricity customer to do? You can make a power rates comparison using the buy.energy marketplace. We make it easy for you so you don't have to take the time to search several sites to find "cheap electricity rates near me." Best of all, there's no cost to you for this service.
For price stability, sign up for flat rate energy plans in Texas rather than variable rates. We've all seen how much energy rates can skyrocket in the Texas heat or in unexpected winter storms. Lock in a rate for up to three years by signing up for fixed-rate plans.
These are the real-time rates for the Oncor service area. All rates presume a residence with a monthly usage of 1,000 kWh. For customized rates and available plans, enter your zip code below.
Average electric usage levels – you really need to know this before shopping.
Be aware, if you don't know the average amount of energy your home or business uses on a monthly basis, then you may be paying more than you should on electric costs. The average monthly usage level gives the various providers a starting point in determining what rate they will offer you.
On most power company websites the prices for the highest usage levels are often highlighted since those tend to have the lowest rates. The catch is that the typical household does not consume nearly enough power to qualify for these rates. buy.energy displays all-inclusive pricing from different providers in a standard, easy-to-use platform.
With your specific usage level, you can shop and compare energy plans based on the rates you'll actually see appear on your bill, inclusive of taxes fees. You won't be misled by the "teaser rates" tied with higher usage levels that many homes never experience, as their usage level never reaches that pricing tier.
buy.energy is not married to any one provider. Our loyalty is to you, the consumer. We do away with all the misinformation, the hidden fees, and the rates subject to fine print. We provide you with everything you need to know to make the right decision for your energy needs.
Moving to Dallas: setting up electricity
If you are moving to Dallas or if this is your first time setting up electricity service in Dallas, you need to get the previous 12-months of energy usage for your new home to get the best rate. Ask the previous homeowner for usage information from the past year. This information is easily found in utility billing statements. This process may take time, but you'll be happy with the long-term savings.
Sign-up for a plan instantly through buy.energy. We will help you keep track of your renewals and will send you a reminder to return when your plan's term comes to an end. There's no hassle, and nothing to monitor.
Ready to get started? Enter your zip code below, and we'll guide you to the best energy plan for your new home. It's time to save on your bills…
The average buy.energy customer saves more than 25% on electricity costs. Shipping for the best energy plan should be free, fast, and simple – and with buy.energy, it finally is.
Switching electricity companies in Dallas
Because of the constant changes in market conditions, it is necessary to shop for a lower price every time your contract is set to expire—often ever year.
Your current electricity company will typically raise your electricity rate once your contract expires, so it's not uncommon for them to neglect to inform you when this is about to happen. Many customers only find out that they are out of contract when they receive a bill that is substantially bigger than expected.
Before renewing your contract, check the rates of competing electricity providers. Switching can save you hundreds or thousands of dollars each year on your energy bill.
Switching is easy:
There's no need to contact your current company—the switch will be automatic
No one from the company comes to your home
There will never be a disruption in service during the change
The process is fast and easy
When you make the switch, your new provider will cancel service with your previous provider. As long as you are not breaking an existing agreement, there won't be any charge to you.
There is no loss of power when you switch. Electricity in Dallas is all delivered by the Oncor Transmission and Distribution Utility. You won't notice any difference because it will be the exact same electricity coming in through the wires and poles. These stay the same no matter which electricity provider you use.
You can choose any cancellation date within 14 days of your contract expiration without an "early termination penalty," according to state law.
If you're still under contract, check how many months remain. You can set a future start date with most companies up to 60 days in advance.
Even with months left on your contract, savings on your monthly bill achieved from a switch may outweigh the fee to break your existing contract. However, this will have to be your decision as you weigh the costs. buy.energy will not make the recommendation for you to switch if you are currently in a contract.
If you are uncertain, email us your latest energy bill and one of our team members will respond promptly to help you weigh your options.
You will want to gather the last year's usage data to determine the best plan with the lowest rate for your household. This is the best way to find your best plan through buy.energy.
Ready to find the best plan for your household's usage? Enter your zip code to get started:
Choosing an energy plan in Dallas
buy.energy gives you the power to choose the best Dallas Rate & Plan that fits your needs and lifestyle.
There isn't one single energy solution that will fit everyone, so you will find a wealth of different short and long-term contracts offered by energy suppliers in Dallas. buy.energy can help you find the plan that is right for you depending on your particular electricity needs.
Long-term, fixed-rate plans provide stability in electricity rates. If market energy costs suddenly trend upward where you live, you can rest assured that you won't have to pay more out of pocket. Texans have seen this in recent summers and winters, where abrupt changes in the market led to bills that many customers called downright criminal. The downside of these long-term plans, however, is that if you want to switch to a different, lower-cost plan before the end of the contract term, you'll likely have to pay a cancellation or early termination fee.
Unlike with long-term plans, short-term plans allow you the freedom to switch providers again to keep up with the market. If costs go down over the next few months, a 6-month contract may help you get to a better time for your renewal. If rates go up, however, you don't have the security of that great rate that is available now.
Would you like the security and the peace of mind from a long-term contract or the freedom and flexibility of a shorter term? Review your particular energy needs to find out which solution would be the best fit for you.
buy.energy makes it easier than ever to search for energy plans by term length. All the options we offer are listed by local suppliers in one place. This allows you to sort through all the available plans, filtering by term length, buy.energy will display the best plans with the best rates according to your individual search preferences.
It is essential to compare potential plans to ensure that you find the best solution and the lowest rates for your home. buy.energy makes it easier than ever to compare your options in one place. We have organized all the Dallas electricity providers and the plans they offer. All you need to do is choose the best solution and best rate for your home. Depending on your needs, you have a number of great options with various providers, term lengths, and rates. Each of these plan types has something unique to offer and are designed to fit different home needs.
Energy plan contract lengths
There are several plan options available for customers in Dallas, and with all the options, there is diversity in contract lengths as well. The shortest term-lengths are three months or even one month. Most single month plans do not require a contract, but some still do. Some of the longer contract options are for one year up to three years. Although it is not common, some providers will occasionally offer longer contracts. The most common contract terms are three years, one year, six months, three months, and one month.
Fixed rates
Electricity plans on buy.energy are recommended for Dallas homeowners or those who have a long-term lease. These residential plans offer price security and stability but generally require a longer commitment. The electricity rates and prices will remain constant throughout the year rather than fluctuating monthly. This plan is a good one for someone looking for commitment and stability.
The downside is that when local energy rates drop, your energy rates will stay the same, so you will not benefit from the discounted energy. The good thing, however, is that when electricity rates spike, your energy bill will not be affected. However, while rates can and do sometimes decrease a little, there is no limit to the amount they can increase. A decrease of half a cent per kilowatt-hour can in fact save you a few dollars, but if unpredictable, extreme weather causes rates to jump 1,000%, you stand to lose a lot. Fixed rate provide the reliability and predictability that prevents customers from receiving surprise energy bills for thousands of dollars.
Variable rates
Variable-rate electric plans are the opposite of fixed-rate plans. With a variable energy rate, you might not be bound to a long-term contract, but instead, your rate will change on a month-to-month basis. This enables you to benefit from price drops when the market fluctuates. The downside, however, is that when electricity rates increase, so will your energy bill. This is a good option for risk-takers, but as noted in the section on fixed rates, the money you could potentially lose could be far greater than the money you could potentially save. You will be able to benefit when energy rates decrease, but risk suffering from a rise in energy prices.
Green energy options
At buy.energy, we are passionate about helping the world around us. It is also just as important to us that we create a way for you to be able to do so too. We are working towards a future of renewable and sustainable energy, so several of our energy partner providers make it possible to power your home with renewable solar energy.
Some companies even let you power your home with electricity that is only partly renewable if you are afraid to make the full switch. To whatever extent you want, we have plans that allow you to power your home using solar energy without having to install solar panels. Although solar power is harnessed through the use of panels, they do not have to be on your home for you to reap the benefits of solar energy. Solar energy is generated through other people's solar panels, and the extra energy they produce is put back into the energy grid for you to use.
buy.energy partners with some of the best Dallas electricity providers including APG&E, Pulse Power, V247, Gexa, Frontier, Summer, Spark, New Power Texas, Pronto, and Chariot Energy. We also believe in green energy so our suppliers have a variety of green options to help you save on your utility bill while also helping to save the Earth.
Electricity for businesses
buy.energy is here to help supply both you and your business with the best energy options with the lowest rates possible. Just take a few minutes to fill out a brief survey with some information about you and your company, and soon several of our top energy providers will begin to reach out to you. Several electricity provider companies will offer quotes for your business. With all the different options, you will be able to choose the lowest rate and the best option for your needs. You will be able to get a personalized electricity plan for your business from one of the best electricity providers in Dallas. A major bonus is that all of our services at buy.energy are completely free to you. All that you will need to sacrifice in order to find your perfect plan is a few short minutes of your time.
How energy deregulation affects electricity prices
Energy deregulation is the whole reason that you are allowed to select your energy plan and provider. Being in a deregulated area is one definitely one of the perks of living in Dallas. This freedom to choose creates intense competition among the energy companies. The providers are doing what they can to battle for your attention. If they want to stand out from their competitors, they have to offer unique plans and cheap electricity rates. This is great news for you.
Texas energy deregulation began in 2002, and this ended the monopoly utility companies had over their service areas. Utilities stopped billing consumers for electricity and instead focused on delivery and on the maintenance of power lines, poles, etc.. Independent retail providers, meanwhile, began to sell electricity to consumers.
Today there are dozens providers, or REPs, to choose from, and this benefits consumers all across the state. Consider the latest statistics:
Texas deregulated most of its electricity market in 2002. This created a lot of changes for both consumers and energy companies. The latest statistics from the U.S. Energy Information Administration paint this picture:
As of August, residential electricity rates in Texas are 12½ percent lower than the national average.
Texas' Commercial rates are nearly 29 percent below the national average.
Industrial rates are nearly 23 percent lower than the national average.
As of November 2020, Texas generates far more electricity from wind than any other state.
Texas generates the third-highest amount of electricity from solar energy.
Texas produces more electricity than any other state—almost twice as much as Florida, the next-highest electricity-producing state.
Texas is the largest producer and consumer of electricity in the nation. The industrial sector, including its refineries and petrochemical plants, accounts for half of the energy consumed in the state.
Texas leads the nation in wind-powered generation. In 2019, the state produced about 28% of all the U.S. wind-powered. Since 2014, Texas has produced more electricity from wind turbines than from both of the state's nuclear power plants.
Ready to shop cheap Texas electric rates? Enter your ZIP code to get started.
Otherwise, keep reading to learn what to expect during the buying process, including current rates, types of plans and a more detailed look at your area. While all the options may seem stressful, there is no need to become overwhelmed. buy.energy is here to help you. Take the time to explore the best energy plans available to you in Dallas so that you can choose the right electricity plan for you.
Electricity price trends in Dallas
Deregulation of the electricity market in Texas began in 2002 and eliminated the potential for energy monopolies in most parts of the state. Through this policy change, competition was introduced into the energy market.
Thanks to this deregulated market, you have the freedom to choose your preferred electricity provider. This power to choose grants you greater control over energy costs.
The deregulated market also means retail providers are competing for your business. Each provider offers low rates to Dallas residents, making now a good time to shop and save money on your energy bill.
With dozens of electricity providers offering service in Dallas, it is important to have a tool to sort through all of the plans available to you.
Dallas utility companies & electricity providers
With deregulation, retail electric providers (REPs) provide your electricity supply, but the area's utility company still manages the infrastructure.
The utility company responsible for Dallas is Oncor Electric Delivery. If you experience an outage or a power emergency, contact Oncor, not your retail electric provider.
Dallas energy consumers have an assortment of REPs from which they can choose. With the buy.energy 24/7 marketplace you can compare a variety of plans. We feature energy plans from several REPs with the lowest rates. Best of all, there is no additional cost to you. buy.energy won't ever charge you from our services. You only pay your bill—with the rate indicated on our site. It is the provider who pays us. You will never see any additional fees for using our site! No matter what your energy needs, buy.energy has a plan for you.
Within the deregulated market, energy providers and utilities perform different functions. Utilities used to be in charge of the whole process, from transmission to distribution to billing and retail. Now, the utility service only transmits and distributes the energy through its lines and poles. The providers, in turn, generate or buy Dallas's energy and sell it.
You have a number of suppliers to choose from when looking for Dallas electricity rates. Some of the most popular providers in the Dallas area include APG&E, Pulse Power, V247, Gexa, Frontier, Summer, Spark, New Power Texas, Pronto, and Chariot Energy. No longer do you have to spend time searching "best electric company near me." Everything you need is right here.
It's important to know exactly what utility companies and energy providers do in Dallas do for residents. Before deregulation, the utility company generated, transmitted, distributed and sold the energy. Now, it transmits and distributes the energy. Energy providers in Dallas generate or buy power and handle sales and payments.
This means that your utility company still delivers your energy and maintains power lines. That's who you call if you have a power outage. Most Dallas residents live in the Oncor Electric Delivery service area. Oncor serves more than 7.5 million customers and is America's sixth largest electric distributor.
Enter your ZIP code to look for cheap electric rates in Dallas with these and other REPs
Compare plans with the free buy.energy marketplace
buy.energy is a 24/7 online marketplace where energy customers can compare Texas electric plans and rates from top providers such as APG&E, Pulse Power, V247, Gexa, Frontier, Summer, Spark, New Power Texas, Pronto, and Chariot Energy at no cost. We have partnered with some of the state's most trusted providers so you can be sure you're getting reliable service. Let's get started:
Enter your ZIP code above. We'll show you real-time, low electricity rates in the Dallas area. Compare plans and pick on that's right for you.
You can sign up online or over the phone. Either way takes only minutes. Not sure what would be best for you? Just have some questions? Give one of our energy experts a call and they'll be happy to help you.
Enjoy the savings from your new energy plan. Your new provider will work with your utility company to start your service with no interruptions. It's that easy!
With the buy.energy marketplace, you can find the electricity plan that meets your needs. We'll show you today's low rates from trusted energy providers in Dallas. Simply enter your ZIP code to get started!
Shop cheap electricity rates. We work with trusted retail electricity providers to make sure our customers receive a great product, a low rate, and quality service. Customize our online marketplace to show electricity rates and plans that fit your needs.
Sign up easily. If you're sure of your choice, sign up online now. If you're not sure which plan to choose or if you'd like to go over a plan's details, call to speak to one of our energy experts. Either way, the process is quick and easy.
Start saving. Dallas residents can switch to a new electricity plan in as little as 5 days from sign-up. Just sit back, relax and enjoy your retail energy choice.
A few things to remember
Don't forget to read your plan's >Electricity Facts Label before signing up. It contains important information including:

Price per kilowatt-hour based on usage
The percentage of renewable energy sourcing
Early termination fees

Your Rights As a Customer (YRAC) – All providers are required to inform you of certain rights you have. These are guaranteed to you by law, so it's always good to be aware of these rights.
Terms of Service – Each plan has its own Terms of Service. These will contain all the details of what your plan costs, everything you will be expected to do, and everything the provider is obligated to do.
Know how to read your electricity bill. Utility bills can have a variety of charges, and this can be confusing if you don't know how to decipher them. Your local TDSP will still deliver your electricity and maintain electric infrastructure including meters and power lines. Your utility fees can be found as TDU or TDSP charges on your monthly bill. They are independent of your supplier rate.
How to find the best energy plan in Dallas
#1 rule: Know Your Usage!
Knowing your energy usage each month makes shopping for electrical providers in Dallas much easier.
By default, each company provides a quote for an exact monthly usage of 2,000 kWh. Depending on your energy usage, your bill may end up higher or lower than what was quoted from this baseline number.
By allowing comparison shopping at your individual usage level, buy.energy offers an alternative for shoppers. We use your past electrical usage figures to produce quotes from all our partner providers rather than relying on a single usage figure.
With buy.energy, you are in control because we show you every fee, charge, and disclaimer with your quote. Once you find the right company for your Dallas home, we offer easy sign-up that only takes minutes. All you need to start is your monthly electrical usage.
If you don't know your usage, estimate
Some customers are unable to determine a full year of historical usage. Maybe you just moved to Dallas and don't have a usage history. Or maybe you're the owner of a new home which has never before had electric service. The next best thing is to estimate how much energy you use in an average month.
While not as ideal as having previous months of usage, estimating your average usage is better than choosing the first plan you see advertised by an electricity provider at a specific usage that isn't what you'll consume. Need help estimating your usage? Contact us now, and we can help!
Use buy.energy to find the best energy plan for your specific usage.
Ready to find the best plan for your household? Enter your zip code to get started:
Switching your electricity provider at the right time of year.
A humid subtropical climate, Dallas summers are hot and intense, with the hottest periods during the months of July and August. The long, dry summers create a demand on the energy grid that is at times hard to maintain, and in past summers, energy users have been subject to rolling blackouts and extremely high market rates. The average Dallas high temperature in August is 96.4 degrees Fahrenheit. The average high temperature for the entirety of the summer is 94.7 degrees while the average low is 75.4 degrees. The record heat in Dallas is 112 degrees, only eight degrees below the Texas all-time high of 120 degrees. Due to a continuous need for air conditioning systems usage during this time of year, energy bills begin to rise. As the temperatures rise, so do energy payments.
Although winter weather in Dallas is not typically brutally cold, there are times when the temperatures have sudden drops during the January and February months. Winter temperatures are generally not excessive, but it dramatically contrasts the brutally hot summers. In January, generally the coldest month of the year, the average low temperature is 37.3 degrees, and the average high is 56.8 degrees.
As temperatures decrease, most people like to stay inside to avoid the cold weather. Throughout the winter, therefore Dallas residents tend to be less active as well. Because of this, lights are left on for longer periods of time, water heaters are working harder to heat the house, and electronics are used more for entertainment. Electricity usage can increase from all of this. The holidays also have a significant effect on energy bills. With families coming in to visit, there will be an extra use of water, heat, and more lights on. The holidays also call for a lot of extra cooking and decorative lights, both huge energy drainers.
It is essential to find the best plan possible so you can get cheap electricity rates throughout the whole year. The changing weather should not have to put a strain on your wallet. We are here to work with you to help you find the best option to help you save all year long.
The difference between a utility and a provider
The utility companies in Texas distributes electricity to your home or business through the lines and poles. The provider is the company that you may choose to sell you the electricity that the utility transmits. Utilities handle emergency service due to outages or problems with the power lines. Providers are who you go through as you shop for plans, pay your bills, and reach out to general customer service issues.
Here is an example. If you experience a problem with the actual delivery of your energy, such as a downed power line, you would call the utility company. If you experience a problem with your billing statement or energy plan, you would call the provider.
Oncor is a utility, or the company responsible for delivering electricity to your home. Utilities also provide the upkeep to the electrical equipment in your area, so that's the company you call when you have a power outage or downed power lines.
That energy comes from providers, which provide the actual energy to the utility (Oncor, here) so that it can be delivered to your home.
In other words, you purchase your electricity from an energy supplier, but your local utility company makes sure it gets to you. That's not all a utility company does though. Oncor also services the power lines and ensures that the transformers and other vital equipment are in working order. To be clear: When you search for a new electricity plan, you're seeing offerings from suppliers.
Both the provider and the utility place charges on your bill. While the charge(s) from the provider can be changed, utility charges cannot. The rates you see when you shop are the energy charges from the provider. For small accounts (most residences), this will include most of the extra charges that are sometimes tacked onto your bill. The provider may, however, charge additional base charges and/or meter fees.
About Oncor
Oncor is the largest energy delivery company in Texas. Founded in 1912, the company provides energy to over 400 communities and 98 counties across Texas, with close to 140,000 miles of managed power lines.
Some of the major coverage areas in Texas include Dallas, Fort Worth, Waco, and other communities to the northwest, including Midland and Odessa.
Contact Oncor
For questions about Oncor rates, bills, or to report outages, contact the company using one of the methods:
Frequently asked questions
How do I find the lowest Dallas electricity rates?
There are several online services that claim to make it easy for Dallas residents to find the best plans and lowest rates. Unfortunately, many of these have horrible flaws or biases built in. buy.energy allow users to compare plan and provider options quickly and easily as well as find the lowest electricity rates. Once you know what kind of energy plan you are looking for, you can compare different options in the area.
How do I know if I am in a deregulated area and why does it matter?
Being in an energy deregulated portion of the state is one of the major perks of living in Dallas. While Dallas is deregulated, certain portions of the state are not. If you are not in Dallas and have questions about your area, contact us and we can help. Deregulation is what gives customers the power to choose your energy plan and service provider. It allows residents to find the best options for their home with the lowest rates. Several of the major cities in Texas are deregulated such as Houston, Waco, Fort Worth, Galveston, Corpus Christi, and others.
What are the top electricity providers in Dallas?
All providers are not equal. However, much of the criteria for "the best" provider is going to come from your specific needs. Unlike some online sites, buy.energy doesn't offer plans from every provider in the state. We carefully select partner providers based on their financial stability and customer service. With buy.energy, you can rest assured that you aren't going to be placed with a company that just doesn't care about you or will even just disappear overnight. When you compare rates, you can know the quality of service you are going to get.
What kind of energy plans are available in Dallas?
When looking for an energy plan in Dallas, users have the option of either a fixed-rate or variable-rate plan. FIxed-rate plans offer security and stability locked-in rates and a set contract. Variable-rate plans, however, offer freedom and flexibility for users with no set rates or set contract. With this plan, rates will change each month depending on the energy market.