Power to Choose is the website hosted by the Texas Public Utility Commission to allow customers to compare rates from a variety of providers. The idea was simple: since retail providers didn't have to pay commissions to the PUC, they could offer lower rates there than anywhere else. In practice, this hasn't worked out so well. Over the years, the site has been the subject of repeated criticism. Rather than providing the transparency it intended, many users have found the site confusing and misleading.
Power To Choose and the paradox of choice
Power to Choose claims to make it easier to shop for electricity plans, but many people only get data overload. Using a random zip code for Dallas, the site listed almost 200 plans. Yes, these can be narrowed down to a limited extent, but who has the time to compare the details of 200 plans?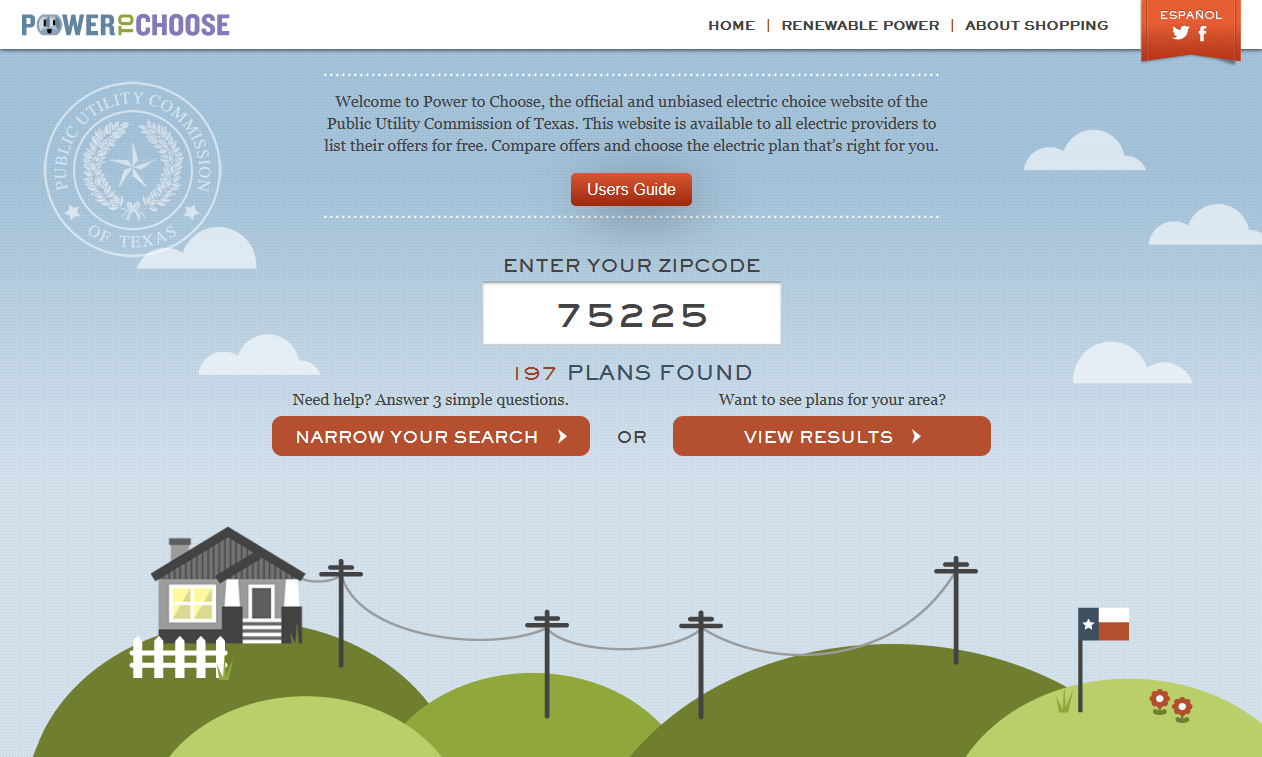 Even after narrowing the search results to plans based on 1,000 kWh per month (an average residence) for a term of 0-12 months (and do most customers know the benefits of longer or shorter terms?), this only reduced the number of plans to 107. Customers are more or less left to guess which one would work best for their needs, and this is far from a simplified shopping experience.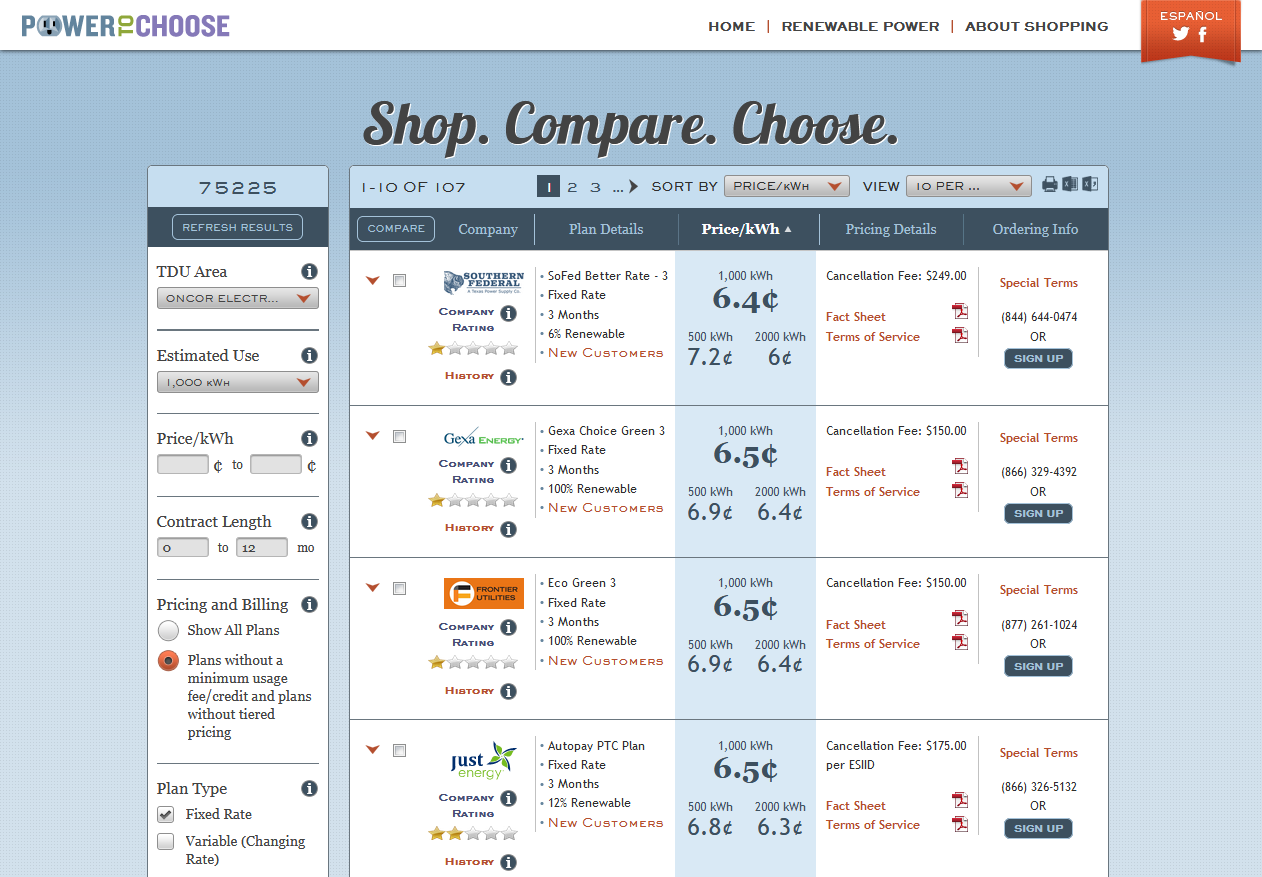 Finding the lowest rates
But is it really so difficult? Can't you just look at the prices and easily see which is the cheapest? The problem is that the providers know they are competing for the lowest per-kilowatt-hour rate. To make up the difference, many of the cheapest plans will include extra fees or even strange contract clauses that increase your final cost. It's easy to think you're getting the best deal when you look at the displayed rates, but in some cases, the true costs can be double once you factor in all the extra fees.
For example, over 70% of the electric plans on Power to Choose impose additional fees if you use under a certain amount of electricity in a given month. If you fall below that threshold, you may end up paying more for using less! If Texas has a couple of exceptionally mild weeks one Spring—or if you are taking that vacation—watch out. Your electric bill may be far more than you would ever expect.
Misleading Energy Facts Labels
You would think that Power to Choose would list this, but no. They simply suggest that you check the provider's electricity facts label (EFL) before you sign up. This means you have to download a document for each and every plan you want to compare. The idea of Power to Choose was to provide customers with the ability to compare everything side-by-side in one place. Looking into the details, however, requires you to pour through the fine print of countless documents.
Furthermore, the EFL is only required to show the rates the provider will charge you for using 500, 1000, and 2000 kWh per month (as seen in many of the offerings above). However, this is not to say that the provider can't charge you a vastly different rate if you don't use exactly those amounts. Some of these providers, therefore, post these "teaser" rates, which don't apply at all if you use 1 kWh more or less per month. As much as your usage likely varies each month, the provider knows it can recoup its losses through the fine print in their contracts.
Unclear information in FAQ
This brings up the next problem. What does Power to Choose do to help you understand everything that is written in your contract? There is a FAQ page that offers information about all sorts of contract details. For example, under "What is a minimum usage fee?" it explains, "Many plans require you to use a minimum amount of electricity each month. If you use less than the minimum amount, you will automatically be charged a fee, sometimes called a "minimum usage charge." This fee may or may not be listed separately on your monthly bill, so it is important to check the electricity facts label for your plan. Not all companies charge this fee or require you to use a minimum amount each month. Some companies offer credits or waivers of other fees for using a certain amount of electricity."
So… some providers have them, some don't. Some will list it on their bills, and some won't. Some providers offer credits instead (no explanation of how this works). Once again, do you know what to look for in a contract?
Limited information for plan options
Likewise, they do have a page listing the Plan Options such as Fixed, Indexed, and Variable Rates; Term lengths; and Deposits. However, while it does tell you what these options are, it does little to explain what that means to you as a consumer.
Power to Choose also lists a number of "Questions To Ask" as you're researching your options:
What will I pay per "kilowatt hour" (kWh) of electricity based on 1,000 kWh of average monthly usage?
Does this rate include everything, including the electricity cost, the transmission and distribution charges, as well as any monthly customer charges or other recurring fees?
Is this offer a fixed rate offer, a variable rate offer, or an indexed offer? If it is a variable or indexed rate offer, how can it change? How do I find out when and by how much the rate will change?
Is there a contract? If so, how long is it for?
Is a deposit required? If so, how much?
What are my payment options?
What happens when my contract expires?
What if I miss a payment?
Is there a penalty if I break the contract?
If I generate excess renewable electricity, does your company have a buy-back plan? What are the terms?
These are all great questions, but Power to Choose offers no way to compare these options side-by-side. To be fair, all this is laid out for you in that lengthy contract you can download. Of course, most customers won't bother to read all of it, and even if they do, most contracts are filled with legalese, strange wording, and fine print.
Who do you contact with problems
Once you sign up for a plan on Power to Choose, you are left to work exclusively with your new provider. Have a billing problem? Contact your provider. Have a question about your service? Contact your provider. Need to make a change to your payment arrangements? Contact your provider. In the best of worlds, you have signed up with a credible provider that has a history of good customer service, but not all customers are so lucky.
In the available plans listed above, 44 of the 107 were from providers rated with only 1 or 2 stars (out of 5). Again, Power to Choose displays this for each plan, but do you feel any safer with a website that will offer plans from any provider, no matter how disreputable?
Providers are not endorsed by the PUC
Power to Choose is run by the Texas Public Utility Commission. Because of this, many consumers have assumed the plans listed on the site are endorsed by this oversight agency. The PUC, however, does not necessarily endorse any of the providers it lists. For the sake of transparency, it is open to all of them.
Higher out of contract rates
But let's say that you did, in fact, choose a great contract with a great provider. What happens in a year (or however long) when that contract expires? When you're out of contract, you almost always defer to a variable rate. Not only have you lost the security of the great rate on every bill, but that month-to-month rate is almost always higher than a fixed rate, sometimes by a lot! Sure you can sign a new contract, but many customers don't notice right away that their rate increased. Considering this is the key sign that a contract has ended, it's easy not to know you are out of contract for a few months. Of course, since the provider is going to make more off you once you go out of contract, they are not likely to remind you ahead of time when the expiration date is coming.
The market is constantly fluctuating, and providers have to adjust their rates accordingly. All the retail providers have their own systems to hedge their rates, but they do not do this in the same ways. Because of this, your provider might be able to offer the best rate when you're initially signing up, but when it comes time for your renewal, they no longer have the best rate.
And what if that provider's rates are no longer the best available? Are you going to stick with them just because you're already there, or are you going to start over in the research process to find something that might be better? Odds are the provider is betting that you will be complacent, and this doesn't give them much incentive to offer you the best deal they have.
Years of criticism
Through the years, Power To Choose has come under significant scrutiny for its potential to confuse and even deceive customers. To their credit, the PUC has made some changes to the way it lists these product offerings, but on the whole, it is still a terribly flawed system. Although it was perhaps a sincere attempt to offer transparency, they fell short of this goal.
The buy.energy difference
buy.energy has kept all this in mind in building its own platform. Designed to offer the transparency the PUC wanted to provide, we have streamlined the process. Most importantly, we whittled down the product offerings to eliminate any contracts with "teaser" rates or other hidden fees. Quite simply, you pay the energy rate that is listed.
We are also selective in choosing the provider partners with whom we work. buy.energy makes it a point only to work with the most reputable providers. The last thing we want is for our customers to choose a provider, only to have a negative experience through the term of the agreement.
Most importantly, we are more than happy to answer your questions and to help you select the plan that works best for you. We've tried to make our website as straightforward as possible, but if you get stuck, there's no reason to be overwhelmed. The buy.energy team understands the nuances of the energy market, and we can walk you through the process.
Find a plan today that works for you, or contact us to talk to a knowledgeable energy agent.