Top ranked Energy Providers in Galveston
Find Cheap Electric Rates in Galveston
Galveston is one of the many deregulated portions of Texas' energy market. Galveston residents and business owners, therefore, are allowed to select their preferred supplier from any of the many energy companies. By coordinating with a number of Texas' leading suppliers, including APG&E, Pulse Power, V247, Gexa, Frontier, Summer, Spark, New Power Texas, Pronto, and Chariot Energy. Through these partner providers, buy.energy is able to find the best rates for our customers. Through our website, we make it easy to shop the available plans and pick the one with the lowest rate for your needs. The best part is that you can seach and sign up in just minutes. It's never been easier to save money.
Texas has had extreme summers and unprecedented winter storms that have tested the limits of the enrgy grid. Therefore, it is more critical than ever to make ensure you have the guaranty of an energy plan locked in. Providers charge fluctuating market rates if you don't have a contract, and when demand spikes, your electric bill could wind up being for thousands of dollars.
Over the past year, more and more people are working remotely from home, and as a result,electricity use is on the rise for residential accounts. Whether your own usage is increasing or not, trends cause changes market-wide. Now is the perfect time to make sure you aren't paying more than necessary on your energy bills.
Would you like to see what rates are available in Galveston? Enter your zip code now, and start shopping for the best savings.
Signing up is easy. You can do it in minutes. Plus, there are no complicated forms, no extra fees, and no technicians need to come to your house to make any changes.
There are dozens of energy providers that service Galveston residents. Fortunately, there's no need to call around to each one to find what rates they will offer you. Even if you're shopping online from the comfort of your own home, many of these providers' websites are complicated and lack the information you're looking for. buy.energy gives you everything you need in one place. Don't spend extra time trying to track down information from dozens of websites.
Galveston electricity rates
As of August 2020, the average price for residential electricity in Texas was 11.74 cents per kilowatt hour (¢/kWh). At buy.energy, you can find several fixed-rate plans as low as 6.7 ¢/kWh. We will help you sort through the options to find an electric rate that works for your home or business. Setup is easy – most homes don't even need a visit from a technician.
Electric rates in Texas change throughout the year depending on the season, demand, and other factors. The U.S. Energy Information Administration (EIA) tracks these changes on a monthly basis, shown in the chart below. The EIA's most recent data is available through August 2020 and lists the average retail rate for electricity in Texas as 11.74 cents per kilowatt hour (¢/kWh).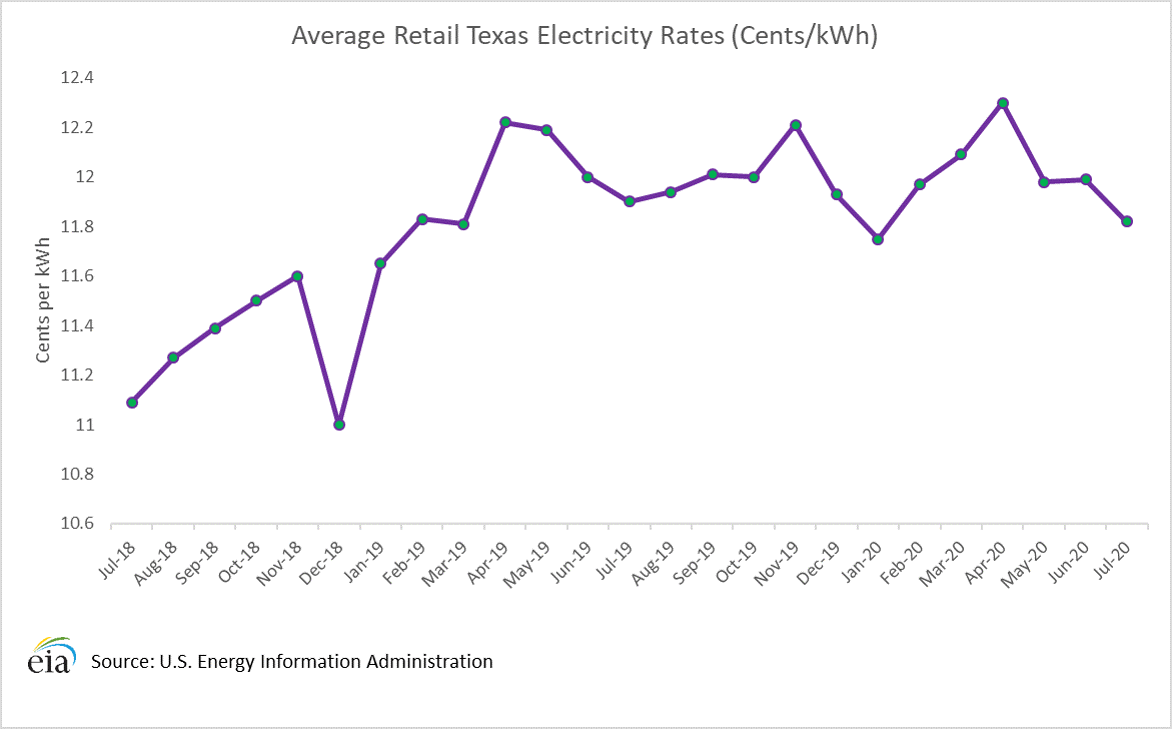 This chart from the U.S. Energy Information Administration shows how average retail Texas electricity rates change on a monthly basis. Texas electricity rates fluctuate throughout the year. With the seasons rates may go up or down. You may be able to lock in a lower rate if you buy at an off-peak time.
Price competition brought about by deregulation means wholesale electricity rates can vary, and any increases in those costs find their way into the retail rates that you pay.
What's an electricity customer to do? You can make a power rates comparison using the buy.energy marketplace. We make it easy for you so you don't have to take the time to search several sites to find "cheap electricity rates near me." Best of all, there's no cost to you for this service.
For price stability, sign up for flat rate energy plans in Texas rather than variable rates. We've all seen how much energy rates can skyrocket in the Texas heat or in unexpected winter storms. Lock in a rate for up to three years by signing up for fixed-rate plans.
These are the real-time rates for the Centerpoint service area. All rates presume a residence with a monthly usage of 1,000 kWh. For customized rates and available plans, enter your zip code below.
Average electric usage levels – you really need to know this before shopping.
Be aware, if you don't know the average amount of energy your home or business uses on a monthly basis, then you may be paying more than you should on electric costs. The average monthly usage level gives the various providers a starting point in determining what rate they will offer you.
On most power company websites the prices for the highest usage levels are often highlighted since those tend to have the lowest rates. The catch is that the typical household does not consume nearly enough power to qualify for these rates. buy.energy displays all-inclusive pricing from different providers in a standard, easy-to-use platform.
With your specific usage level, you can shop and compare energy plans based on the rates you'll actually see appear on your bill, inclusive of taxes fees. You won't be misled by the "teaser rates" tied with higher usage levels that many homes never experience, as their usage level never reaches that pricing tier.
buy.energy is not married to any one provider. Our loyalty is to you, the consumer. We do away with all the misinformation, the hidden fees, and the rates subject to fine print. We provide you with everything you need to know to make the right decision for your energy needs.
Choosing an energy plan in Galveston
buy.energy gives you the power to choose the best Galveston Rate & Plan that fits your needs and lifestyle.
There isn't one single energy solution that will fit everyone, so you will find a wealth of different short and long-term contracts offered by energy suppliers in Galveston. buy.energy can help you find the plan that is right for you depending on your particular electricity needs.
Long-term, fixed-rate plans provide stability in electricity rates. If market energy costs suddenly trend upward where you live, you can rest assured that you won't have to pay more out of pocket. Texans have seen this in recent summers and winters, where abrupt changes in the market led to bills that many customers called downright criminal. The downside of these long-term plans, however, is that if you want to switch to a different, lower-cost plan before the end of the contract term, you'll likely have to pay a cancellation or early termination fee.
Unlike with long-term plans, short-term plans allow you the freedom to switch providers again to keep up with the market. If costs go down over the next few months, a 6-month contract may help you get to a better time for your renewal. If rates go up, however, you don't have the security of that great rate that is available now.
Would you like the security and the peace of mind from a long-term contract or the freedom and flexibility of a shorter term? Review your particular energy needs to find out which solution would be the best fit for you.
buy.energy makes it easier than ever to search for energy plans by term length. All the options we offer are listed by local suppliers in one place. This allows you to sort through all the available plans, filtering by term length, buy.energy will display the best plans with the best rates according to your individual search preferences.
It is essential to compare potential plans to ensure that you find the best solution and the lowest rates for your home. buy.energy makes it easier than ever to compare your options in one place. We have organized all the Galveston electricity providers and the plans they offer. All you need to do is choose the best solution and best rate for your home. Depending on your needs, you have a number of great options with various providers, term lengths, and rates. Each of these plan types has something unique to offer and are designed to fit different home needs.
Energy plan contract lengths
There are several plan options available for customers in Galveston, and with all the options, there is diversity in contract lengths as well. The shortest term-lengths are three months or even one month. Most single month plans do not require a contract, but some still do. Some of the longer contract options are for one year up to three years. Although it is not common, some providers will occasionally offer longer contracts. The most common contract terms are three years, one year, six months, three months, and one month.
Fixed rates
Electricity plans on buy.energy are recommended for Galveston homeowners or those who have a long-term lease. These residential plans offer price security and stability but generally require a longer commitment. The electricity rates and prices will remain constant throughout the year rather than fluctuating monthly. This plan is a good one for someone looking for commitment and stability.
The downside is that when local energy rates drop, your energy rates will stay the same, so you will not benefit from the discounted energy. The good thing, however, is that when electricity rates spike, your energy bill will not be affected. However, while rates can and do sometimes decrease a little, there is no limit to the amount they can increase. A decrease of half a cent per kilowatt-hour can in fact save you a few dollars, but if unpredictable, extreme weather causes rates to jump 1,000%, you stand to lose a lot. Fixed rate provide the reliability and predictability that prevents customers from receiving surprise energy bills for thousands of dollars.
Variable rates
Variable-rate electric plans are the opposite of fixed-rate plans. With a variable energy rate, you might not be bound to a long-term contract, but instead, your rate will change on a month-to-month basis. This enables you to benefit from price drops when the market fluctuates. The downside, however, is that when electricity rates increase, so will your energy bill. This is a good option for risk-takers, but as noted in the section on fixed rates, the money you could potentially lose could be far greater than the money you could potentially save. You will be able to benefit when energy rates decrease, but risk suffering from a rise in energy prices.
Green energy options
At buy.energy, we are passionate about helping the world around us. It is also just as important to us that we create a way for you to be able to do so too. We are working towards a future of renewable and sustainable energy, so several of our energy partner providers make it possible to power your home with renewable solar energy.
Some companies even let you power your home with electricity that is only partly renewable if you are afraid to make the full switch. To whatever extent you want, we have plans that allow you to power your home using solar energy without having to install solar panels. Although solar power is harnessed through the use of panels, they do not have to be on your home for you to reap the benefits of solar energy. Solar energy is generated through other people's solar panels, and the extra energy they produce is put back into the energy grid for you to use.
buy.energy partners with some of the best Galveston electricity providers including APG&E, Pulse Power, V247, Gexa, Frontier, Summer, Spark, New Power Texas, Pronto, and Chariot Energy. We also believe in green energy so our suppliers have a variety of green options to help you save on your utility bill while also helping to save the Earth.
Electricity for businesses
buy.energy is here to help supply both you and your business with the best energy options with the lowest rates possible. Just take a few minutes to fill out a brief survey with some information about you and your company, and soon several of our top energy providers will begin to reach out to you. Several electricity provider companies will offer quotes for your business. With all the different options, you will be able to choose the lowest rate and the best option for your needs. You will be able to get a personalized electricity plan for your business from one of the best electricity providers in Galveston. A major bonus is that all of our services at buy.energy are completely free to you. All that you will need to sacrifice in order to find your perfect plan is a few short minutes of your time.
How energy deregulation affects electricity prices
Energy deregulation is the whole reason that you are allowed to select your energy plan and provider. Being in a deregulated area is one definitely one of the perks of living in Galveston. This freedom to choose creates intense competition among the energy companies. The providers are doing what they can to battle for your attention. If they want to stand out from their competitors, they have to offer unique plans and cheap electricity rates. This is great news for you.
Texas energy deregulation began in 2002, and this ended the monopoly utility companies had over their service areas. Utilities stopped billing consumers for electricity and instead focused on delivery and on the maintenance of power lines, poles, etc.. Independent retail providers, meanwhile, began to sell electricity to consumers.
Today there are dozens providers, or REPs, to choose from, and this benefits consumers all across the state. Consider the latest statistics:
Texas deregulated most of its electricity market in 2002. This created a lot of changes for both consumers and energy companies. The latest statistics from the U.S. Energy Information Administration paint this picture:
As of August, residential electricity rates in Texas are 12½ percent lower than the national average.
Texas' Commercial rates are nearly 29 percent below the national average.
Industrial rates are nearly 23 percent lower than the national average.
As of November 2020, Texas generates far more electricity from wind than any other state.
Texas generates the third-highest amount of electricity from solar energy.
Texas produces more electricity than any other state—almost twice as much as Florida, the next-highest electricity-producing state.
Texas is the largest producer and consumer of electricity in the nation. The industrial sector, including its refineries and petrochemical plants, accounts for half of the energy consumed in the state.
Texas leads the nation in wind-powered generation. In 2019, the state produced about 28% of all the U.S. wind-powered. Since 2014, Texas has produced more electricity from wind turbines than from both of the state's nuclear power plants.
Ready to shop cheap Texas electric rates? Enter your ZIP code to get started.
Compare plans with the free buy.energy marketplace
buy.energy is a 24/7 online marketplace where energy customers can compare Texas electric plans and rates from top providers such as APG&E, Pulse Power, V247, Gexa, Frontier, Summer, Spark, New Power Texas, Pronto, and Chariot Energy at no cost. We have partnered with some of the state's most trusted providers so you can be sure you're getting reliable service. Let's get started:
Enter your ZIP code above. We'll show you real-time, low electricity rates in the Galveston area. Compare plans and pick on that's right for you.
You can sign up online or over the phone. Either way takes only minutes. Not sure what would be best for you? Just have some questions? Give one of our energy experts a call and they'll be happy to help you.
Enjoy the savings from your new energy plan. Your new provider will work with your utility company to start your service with no interruptions. It's that easy!
With the buy.energy marketplace, you can find the electricity plan that meets your needs. We'll show you today's low rates from trusted energy providers in Galveston. Simply enter your ZIP code to get started!
Shop cheap electricity rates. We work with trusted retail electricity providers to make sure our customers receive a great product, a low rate, and quality service. Customize our online marketplace to show electricity rates and plans that fit your needs.
Sign up easily. If you're sure of your choice, sign up online now. If you're not sure which plan to choose or if you'd like to go over a plan's details, call to speak to one of our energy experts. Either way, the process is quick and easy.
Start saving. Galveston residents can switch to a new electricity plan in as little as 5 days from sign-up. Just sit back, relax and enjoy your retail energy choice.